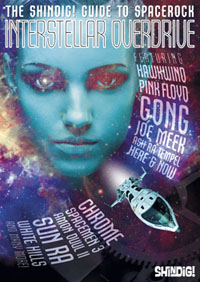 Be sure to keep an eye out for the new special edition, one-off issue of Shindig! magazine focusing on the history of cosmic music and featuring an interview with Richard Vaughan of ASTRA!
Here is a write-up of the issue borrowed from the
Shindig! website
:
INTERSTELLAR OVERDRIVE
The Shindig! Guide To Spacerock
This special edition of Shindig! explores spacerock's peculiar mix of heavy riffs and electronics through the age of the space race, the resulting sci-fi explosion and the mind-expanding influences of the acid-fried '60s and beyond.
We trace spacerock back to its roots with the soundtracks of the '50s, including Louis and Bebe Barron's FORBIDDEN PLANET, through to the incredible work of JOE MEEK on 'Telstar'. In addition, we will cover the social and cultural context of the moon landings, sci-fi literature and the spaced-out cinema that shaped the end of the '60s. In this environment came early spacerock efforts from THE JIMI HENDRIX EXPERIENCE, PINK FLOYD and THE BYRDS.
One band arrived at the close of the decade to define the genre – HAWKWIND. Just as influential in their own idiosyncratic way were GONG with their Radio Gnome trilogy. Several artists pursued the electronic side of spacerock, such as SILVER APPLES and FIFTY FOOT HOSE, whilst the BBC RADIOPHONIC WORKSHOP added a distinct Britishness to proceedings. The Germans also produced their own unique contributions to the idiom with AMON DÜÜL II, NEU and ASH RA TEMPEL. At the close of the '70s several artists such as CHROME utilised the punk spirit to reinvigorate spacerock.
The magazine will take the genre through the '80s and '90s with HERE AND NOW and OZRIC TENTACLES and the cross-pollination of the indie scene with SPACEMEN 3 and LOOP. Taking things up to the present day and proving the genre is still in rude health are the likes of ASTRA, THE HEADS and WHITE HILLS. There will also be numerous diversions through key spacerock obscurities as well as articles from the likes of Johnny Truck, Patrick Lundborg, Ian Abrahams and Rich Deakin.